After being away from the ocean for nearly half a year, I dipped my toes in the cool blue Atlantic ocean, and I was centered. Although it wasn't the Pacific ocean that I grew up with, being among the waves was inexplicably cathartic. Around me, waves jaggedly broke across brown sand, and the sounds of laughter and voices calling from the group I was with filled my ears on a hot, Dominican day.
Carefully, I stepped over thousands of tiny rocks, going deeper into the Atlantic, pausing to hop over a wave as it crashed into me. Quickly though, I stopped wading into the water because of one ridiculous reason alone: I can't swim. You'd think between growing up in Southern California and my insatiable love of the water, a girl like me would be part mermaid, but nope. I don't know what happened there. It's quite tragic.
So I stopped in the worst place possible–the place where the waves grow before they crash. Even so, every thing within me longed to go out further where my friends were–to the space beyond the waves, a place I've never ventured out to due to my inability to swim.
At one point, two friends swam back and offered their hands. First, they offered their hands reminding me that I was stupidly standing in a danger zone (but not dangerous for individuals who can swim), and secondly, they offered me their hands to take me to the space beyond the waves–to uncharted territory.
To these two friends, I don't think they quite realized the gravity of their actions. To them, perhaps it was pity for a friend who couldn't swim. But for me, it was a trust fall.
I don't trust people very easily. More often than not, I don't trust individuals–even those that have been in my life for years. It's an issue I'll be working on with my therapist, I'm sure, but for now, it is what it is. And in that moment, when those two friends came back from me, it was a do or die moment.
Standing in the middle of the Atlantic, beneath the Dominican sun, with two hands offered to me to take, what looked like a few passing seconds was agonizingly long for me internally. In that moment, my heart pounded as I hesitated, watching them carefully. My heart pounded as my mind raged, telling me it wasn't a good idea to trust these people. My mind screamed that they would let me go, that if something bad happened, they wouldn't help me. My mind screamed that it's safer to go back to the shore than let these two people whom I haven't known for a long time take me to where I want to go. But my heart whispered otherwise.
My heart whispered, "do or die. It's now or never." My heart grew bolder and said, "you're going to have to trust some time. Trust them. If you want to change, start here." And so I did, tentatively placing my hands–my life— in their hands. And I didn't get very far. I might have ventured out a few more feet, but fear won over and I let go, deciding I didn't need to die in the Dominican Republic. Even so, what matters to me are the few more feet I went deeper, and these friends didn't let go.
And I think, that's what trust is. Trust is, not knowing what will happen, but taking the outstretched hands that want you, trusting that they will take care of you as you would do for them.
Somehow, the waves that were breaking at chest height became bigger, and eventually too big for me to handle. Before I could make it safely to shore, there was a wave that was as tall as I was, if not taller, and it took my under. Realizing what was happening, I swore and held my breath hoping for the best. The force of the wave knocked me back to the shore, but I was lost in a swirl of blue saltwater, unable to regain my footing. As I was tossed back to shore, my legs and feet roughly kissed the thousands of small sharp rocks. Ouch. As quick pain pricked my legs, I inhaled a large gulp of water, still couldn't gain my footing, and my legs scraped again.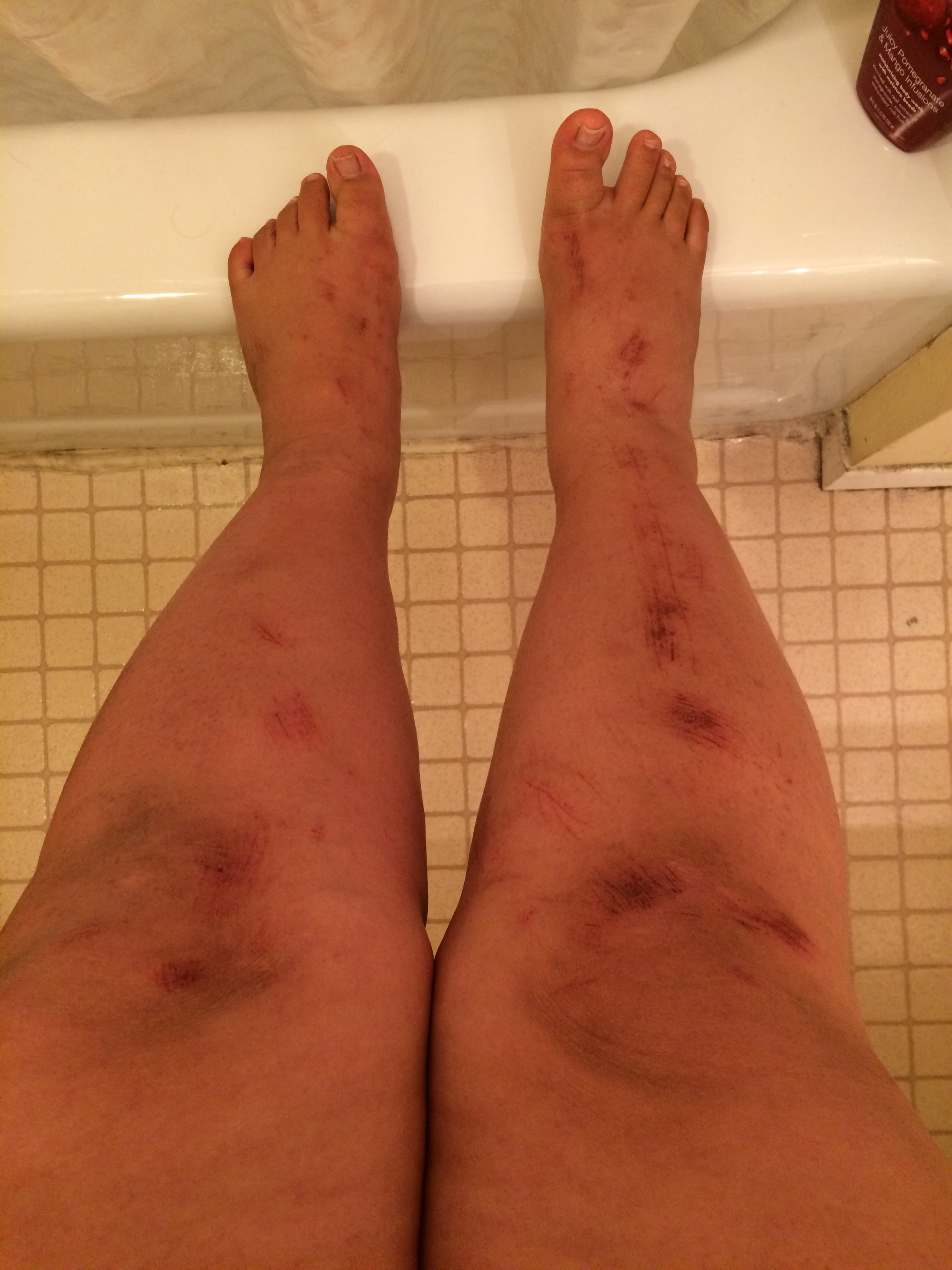 (Excuse the bloated feet. My feet decided they needed to be bloated after traveling -__-)
Eventually I was able to get up and make it safely back to shore, away from the tiny rocks of death that also managed to attack other people who were taken by the wave.
Above is a picture of my scraped up legs and bloated traveling feet. Since then, my scabs are starting to fall off and I can see my ankles again, but I think I learned two very valuable lessons from that experience. 1. I need to learn how to swim and be a mermaid. 2. Trusting people may result in scars, but those scars will sometimes be worth it. 
Perhaps, if it wasn't for the two friends that came back for me, I might not have put my legs through the trauma. As terrifying as it all was for me in those few minutes, the terror, today, gives way to monumental forward action.
I think I'll be grateful for a very long time to the two who came back for me. To them, it might have been a small action, but for someone like me, in that moment, it was everything. Today, it gives me the courage to continuously say "now or never, do or die".
My inability to trust others is incredibly painful, as I know that it not only hurts me, but others around me as well. The decision to put my hand in another's, allowing them to walk beside me in spite of fearful uncertainties, is among the lightest feelings in the world. Sometimes trusting people will result in scars and pain, and you may cry from it, but it shouldn't harden your heart. In fact, it should only make you wiser about whose hand you take, and the pain shouldn't deter you forever.
As for me, I have a long way to go, but this is the first step. The next time I'm in the ocean, I'm likely to go into the water again–and hopefully I'll be able to float beyond the waves. And the next time someone offers me their hand, hopefully I'll take it in spite of the uncertainties ahead, as there are far better things ahead than the ones that hold me back.